From Autonomy to Atalanta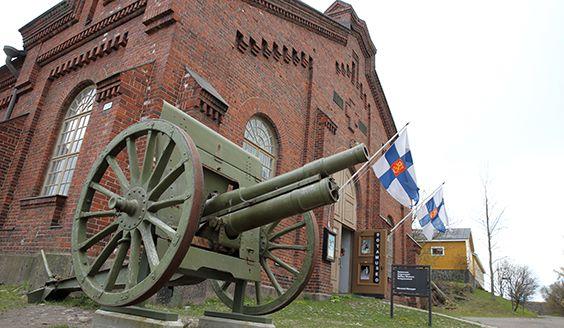 In the exhibition "From Autonomy to Atalanta" in the Military Museum´s Manege the visitor can almost with a single glance see Finnish military history from bronze cannons to an anti-ship missile.
Background information is presented in several languages on panels and in multimedia presentations.
In the heavy armaments' section you will find, among others, guns from the 16th century as well as guns, a tank and a horse-drawn canteen from Finland's previous wars, and an anti-ship missile .
The third part contains a long show case with some twenty models of soldiers spanning from a soldier of "Vanha Väki" (Finnish conscript army from the 19th century) to a 21st-century peacekeeper.
You can even try on a soldier's uniform and see how well you do in making a soldier's bed.
There are short introductions to the exhibition in English every day at 12.30pm and at 4.30pm. Introductions are included in the ticket price.
Opening Hours
The exhibition is open until 31 October 2017 daily 11pm–6pm. Ticket office closes / last admittance at 5.30pm. Entrance fee 7 € (reduced ticket price 4 €), includes also admission to the submarine Vesikko.
Links:
Tutustu Autonomiasta Atalantaan -näyttelyn esineistöön (An overview of objects in the exhibition)
Suomenlinnan merilinnoituksen viralliset sivut (the official website of Suomenlinna Fortress)