History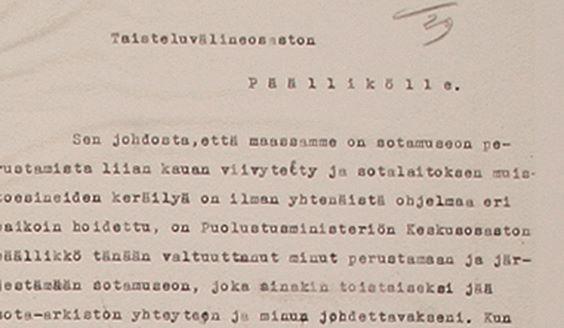 In 1929, the museum was originally founded to record and exhibit objects and events from Finland's War of Liberation.
Following a proposal to establish a military museum put forward on 25 November 1929, a museum located in the basement of the war archives on Liisankatu 1, Helsinki, was opened on 18 October 1930.
In 1933, the Military Museum was transferred to the island fortress Suomenlinna, to the Carpelan Barracks in Kustaanmiekka. The office remained on mainland Helsinki.
During the war years 1939-1944, the museum was shut to the public and objects were put into safekeeping. The museum's collections grew considerably with people actively collecting and donating objects. Because of the massive air raids in Helsinki during the Continuation War, the museum's office was located in the countryside February–October 1944.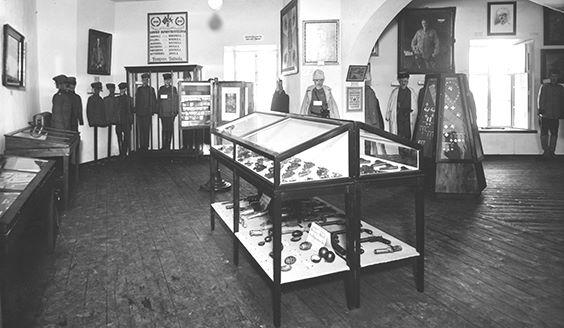 In the first years after the wars, the Military Museum did not have a place to hold exhibitions. The museum's naval collection was set up at the Carpelan Barracks in 1948 and during that same year an exhibition on the history of the coastal artillery was opened in a gunpowder store dating from the 1700s in Kustaanmiekka, Suomenlinna.
In 1949, the museum finally acquired a venue within central Helsinki. The renewed and renovated exhibition spaces located on Maurinkatu 1, Helsinki, however, could not be opened to the public until spring 1962. The museum's main exhibition focused on the time after the conscription act from 1881 onwards while the National Museum displayed earlier artefacts. Exhibitions on Maurinkatu 1 were closed in 2009, but some of the museum´s offices were still located at this address.
When the National Defence University moved from Liisankatu 1 to the military island of Santahamina at the end of the 1990s, the museum took over the premises. The museum hosted the 60th anniversary exhibition of the Winter War in 1999 and has since had extensive exhibitions on the Continuation War and on the Defence Forces' 90 years of history. It also had a special exhibition commemorating the 70th anniversary of the Winter War and several other smaller exhibitions. "From Hakkapeliitat to Peacekeepers" was the Military Museum's last exhibition on Liisankatu 1. Due to the poor condition of the premises, the exhibition was closed on 1 May 2016. Now the exhibitions of the Military Museum were located at Suomenlinna.
In December 2019 the museum´s office, too, moved from Kruununhaka to Suomenlinna.